Hoy seguimos avanzando los nuevos Costes en Puntos para Warhammer 40000 Novena Edición.
Hoy os mostramos los nuevos costes y subidas y bajadas en los diversos capítulos de Marines Espaciales más utilizados.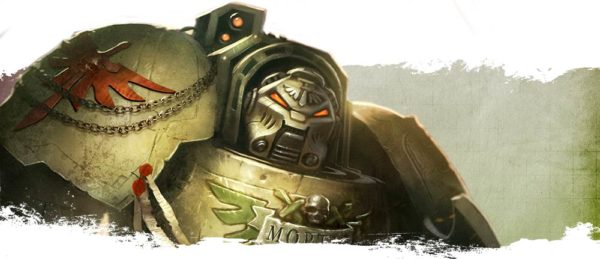 Ultramarines
Captain Sicarius: +5
Chaplain Cassius: +10
Chief Librarian Tigurius:+5
Marneus Calgar: +10
Roboute Guilliman:+30
Sergeant Chronus: +5
Sergeant Telion: +5
Chapter Ancient +5pts
Chapter Champion +15pts
Honour Guard +4pts
Tyrannic War Veterans +2pts
Victrix Honour Guard +0
White Scars
Khan on bike +10pts
Kor'Sarro Khan +5pts
Iron Hands
Iron Father Feirros: +30pts (wow this one is real !)
Imperial Fist
Captain Lysander +10pts
Pedro Kantor +5pts
Tor Garadon +5pts
Salamanders
Adrax: +5pts
Vulkan: +5pts
Raven Guards
Shrike: +5pts
BLACK TEMPLARS
Helbrecht: +5pts
Emperor's Champion: +5pts
Grimaldus: +5pts
Blood Angels
Sanguinary Priest:+5pts
Sanguinary Priest with JP : +20pts (whattttt !)
Astorath +5
Brother Corbulo +7
Captain Tycho +15
Chief Librarian Mephiston +25
Commander Dante +20
Gabriel Seth +30
Lemartes +30
Sanguinor +10
Tycho the lost +15
Elites
Death Company +4pts
Death Company with Jump Packs +3pts
Death Company Dreadnought +15pts
Death Company Intercessors +5pts
Furioso Dreadnought +15pts
Sanguinary Ancient +20pts
Sanguinary Guard +4pts
Sanguinary Novitiate +10pts
Heavy Support
Baal Predator +10pts
Dark Angels
Interrogator-Chaplain +5pts
Interrogator-Chaplain in Terminator Armour +5pts
Interrogator-Chaplain with Jump Pack +15pts
Ravenwing Talonmaster -18pts (cool)
Ravenwing Black Knights +6pts
Ravenwing Darkshroud -8pts
Ravenwing Land Speeder Vengeance +15pts
Deathwing Ancient +6pts
Deathwing Apothecary +15pts
Deathwing Champion +5pts
Deathwing Knights +8 pts (maybe weapons are free now)
Asmodai +5pts
Azrael +10pts
Belial +0pts
Ezekiel +5pts
Lazarus +5pts
Sammael in Sableclaw +10pts
Sammael on Corvex +0
Nephilim Jetfighter +15pts
Ravenwing Dark Talon +20pts
Space Wolves
Bjorn the Fell-Handed +5
Iron Priest +0
Primaris Battle Leader +12pts
Primaris Battle Leaders in Phobos Armour +3pts
Primaris Rune Priest +5pts
Primaris Wolf Lord +12pts
Primaris Wolf Priest +8pts
Rune Priest +10pts
Rune Priest in Phobos Armour +8pts
Rune Priest in Terminator Armour +5pts
Rune Priest with Jump Pack +7pts
Wolf Guard Battle Leader +5pts
Wolf Guard Battle Leader in Terminator Armour +10pts
Wolf Guard Battle Leader on Thunderwolf +4pts
Wolf Guard Battle Leader with Jump Pack 12pts
Wolf Lord 9pts
Wolf Lord in Cataphractii Armour +0
Wolf Lord in Gravis Armour +15pts
Wolf Lord in Phobos Armour +3pts
Wolf Lord in Terminator Armour +0
Wolf Lord on Thunderwolf +5pts
Wolf Lord with Jump Pack +12pts
Wolf Priest +8pts
Wolf Priest in Terminator Armour +5pts
Wolf Priest with Jump Pack +15pts
Blood Claws +3pts per model
Grey Hunters +3 pts per model
Wolf Guard Pack Leader +3pts
Wolf Guard Terminator Pack Leader +0
Stormfang Gunship +5
Stormhawk Interceptor +30pts
Stormwolf +5pts
Arjac Rockfist +5
Canis Wolfborn +10
Harald Deathwolf +10
Krom Dragongaze +15
Logan Grimnar +10
Logan Grimnar on Stormrider +10
Lukas, the Trickster +5
Murderfang +10
Njal Stormcaller +10
Njal Stormcaller in Runic Terminator Armour +15
Ragnar Blackmane +25
– Svangir and Ulfgir : Removed
Ulrik the Slayer +15
Cyberwolves +0
Fenrisian Wolves +1
Thunderwolf Cavalry +5
Esperamos que los costes en puntos te hayan sido favorables.